Filters
Host Donations (high to low)
Newest First
Price (low to high)
Price (high to low)
Rating
Number of Reviews
Colorful Maki Sushi Making Class in Osaka
Need a break from typical tourist activities in Osaka? Come join Yoko-sensei in her Osaka kitchen and learn how to make colorful, delicious, and fresh rolled sushi—as well as other tasty Japanese side dishes!
Sushi Cooking Class
From delicate nigiri sushi to hefty gunkan maki, learn how to make several types of sushi during this cooking class in Tokyo. With a side of yakitori, miso soup, pickles, this is the perfect balanced Japanese meal to impress family and friends.
Tailor-Made Tours
Can't find what you're looking for? We can plan a custom-made food experience or itinerary just for you.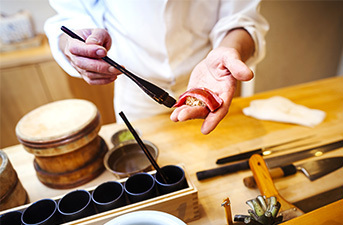 Sushi Cooking Classes in Osaka
Learn how to make sushi in Osaka, the land of "kuidaore" (meaning "to eat yourself into bankruptcy")! The people of Osaka definitely love their food, and it's no wonder! With delicious local fish markets like Kuromon Market serving up some of the freshest seafood and local products, you can't pass up an opportunity to eat in Osaka. And what better way to connect with Osaka's local ingredients than to join a sushi cooking class in Osaka and learn to make a delicious meal with the region's high-quality fish. During these sushi making classes in Osaka, you'll learn various sushi-making techniques with guidance from professional sushi chefs or experienced cooking instructors. Mold perfectly portioned nigiri sushi in the palm of your hand, or get rolling with makizushi! It all starts with exquisitely delicious sushi rice, which you will learn how to season properly, and fresh ingredients! These sushi cooking lessons in Osaka are sure to be the highlight of your trip, and you'll take home the best omiyage of all: warm memories of the time spent connecting with Japanese food culture and learning from locals.