Filters
Host Donations (high to low)
Newest First
Price (low to high)
Price (high to low)
Rating
Number of Reviews
Tailor-Made Tours
Can't find what you're looking for? We can plan a custom-made food experience or itinerary just for you.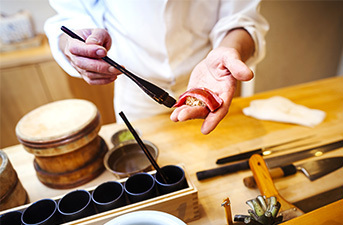 Vegetarian Food Tours in Tokyo
Vegetarian options in Tokyo are rapidly increasing, but it can be tricky to navigate what's inside the food without really knowing what you're ordering. Don't worry about what you're getting yourself into, you can explore the best pockets of the city and its exciting attractions during one of our vegetarian food tours in Tokyo. Fuelled by awesome vegetarian menu options, you'll have an amazing time bar hopping through Shinjuku or eating your way through the Ameyoko street food offerings in Ueno! Even if you're vegetarian, there so many delicious possibilities, so rather than missing out, you can just enjoy a delicious itinerary by joining one of our vegetarian food tours in Tokyo!
Explore delicious vegetarian sweets down Takeshita Street in Harajuku, or stop off at a hidden izakaya in Shibuya, devouring some delicious vegetarian izakaya pub food. Vegetarian food tours in Tokyo can take you to some of the coolest restaurants in the city that boast an awesome vegetarian menu, or introduce you to lots of delicious vegetarian street foods that you can eat throughout your trip. By the end of your vegetarian food tour in Tokyo, you will be an expert on vegetarian food in Japan! Explore the culture of neighborhoods like Shinjuku or Asakusa with a vegetarian itinerary here.