Tailor-Made Tours
Can't find what you're looking for? We can plan a custom-made food experience or itinerary just for you.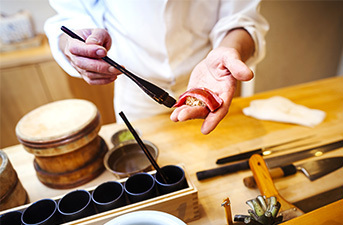 Japan's northernmost main island is a wild land of mountains, untamed wilderness, and breathtaking wildlife. This unique land of Hokkaido has an equally unique culinary culture, with some of the best sushi restaurants in the Japan drawing upon the vast oceans stretching out from its coasts. Expect fantastic oysters, world-beating sea urchin, salmon roe in abundance, and succulent crabs.
But it's not just about wilderness and tradition; the capital city Sapporo has a fantastic restaurant scene with everything from iconic Japanese institutions to modern European bistros. These Hokkaido restaurants are as varied as they are prestigious!
Here you'll find centuries-old ryokan inns competing with Italian and French restaurants of the highest caliber. Meanwhile, small-time family ramen shops and izakaya dish out unique northern renditions of the Japanese classic dishes.
After a long day exploring the wilderness, carving up the pistes, or relaxing in the hot springs, you'll have plenty of great restaurants to choose from. Take a look at our range of the best restaurants in Hokkaido, and reserve your spot today.