Tailor-Made Tours
Can't find what you're looking for? We can plan a custom-made food experience or itinerary just for you.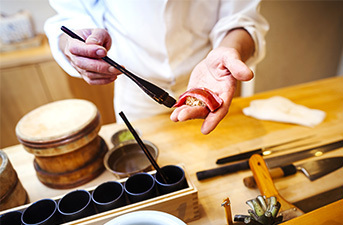 Halal Restaurants in Tokyo
Restaurants in Japan are famous for serving up some of the best, freshest, and most unique cuisine in the world. Outside of major cities, halal-friendly restaurants can be difficult to find, but no matter what your faith, high-quality Japanese food must not be missed out on if you are visiting Tokyo! If you have halal dietary requirements, no stress, you can still enjoy Japanese food at one of the many accommodating and delicious certified halal restaurants in Tokyo. They serve up halal meats so you can enjoy wagyu beef sizzling on an open, authentic teppanyaki grill. There are so many amazing restaurants in Tokyo that accommodate Muslim travelers! Discover your favorite right here on byFood.
Being able to eat delicious Japanese food while adhering to the Muslim faith doesn't have to cost an arm and a leg, either. There are plenty of affordable halal restaurants in Tokyo that serve up delicious Muslim-friendly Japanese food like ramen and tempura, plus many more traditional Japanese dishes! You don't have to miss out on all the delicious food available in Tokyo and its amazing restaurants, that's for sure. Make sure you enjoy halal food in Tokyo by making a reservation at one of the many halal restaurants available on byFood in this bustling metropolis. These restaurants understand your dietary requirements and offer exceptional halal dining experiences you will never forget.
Muslim travelers in Tokyo don't have to worry about finding halal-friendly Japanese restaurants with the help of byFood. Tokyo has so many options making it easier for people of the Muslim faith to find restaurants. Some halal certified restaurants in Tokyo can be found in some of the most unusual places, too! Taking you on a culinary journey while also exploring the futuristic capital of Tokyo, halal food tours in Tokyo are also an immersive way to discover Japanese culture. You can enjoy a halal dining experience in Tokyo by reserving a seat at one of the city's best halal restaurants.
Frequently Asked Questions
How to reserve halal restaurants in Tokyo?
Typically, halal restaurants in Tokyo will allow you to reserve a table by calling the restaurant directly. However, reservations over the phone can be difficult if you do not speak Japanese, and discussing halal dining options can be particularly difficult in some circumstances. The easiest way to book a halal restaurant in Tokyo is to use a reservation service online that helps foreigners make advance reservations at restaurants. For example, byFood is a reliable online platform where you can reserve restaurants in English. You can filter restaurant options by location and dietary requirements, such as halal restaurants in Tokyo. Choose your restaurant and submit your reservation details to the restaurant page, and byFood will do the reserving for you. Just wait to receive either a confirmation email or a rejected reservation email.
Is a reservation required for halal restaurants in Tokyo?
Not all halal restaurants in Tokyo require a reservation, however if you want to make sure you have a seat on a particular date, it is a good idea to book ahead.
What is the average cost of a meal at halal restaurants in Tokyo?
Expect to pay 1500 yen to 2000 yen for a meal at a halal restaurant in Tokyo. The average dinner cost may cost around 3000 yen to 5000 yen, depending on the restaurant.