Filters
Host Donations (high to low)
Newest First
Price (low to high)
Price (high to low)
Rating
Number of Reviews
Tailor-Made Tours
Can't find what you're looking for? We can plan a custom-made food experience or itinerary just for you.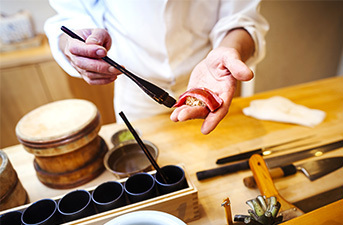 Vegan Food Tours in Tokyo
Tokyo is certainly one of the most exciting cities in the world with its futuristic technologies, ancient shrines, and incredible food scene rolled all into one. If you're vegan and coming to Tokyo, it can be really exciting but a bit daunting at the same time. Specialty vegan restaurants and establishments with vegan options on the menu are rapidly increasing but with so many options and places to go, what should you eat first if you're a vegan in Tokyo? Let us do the hard yards for you! Vegan food tours in Tokyo can take you to all of the coolest attractions and local neighborhoods as you eat delicious vegan food along the way!
We have got some specialty vegan food tours in Tokyo as well as regular tours that offer vegan food alternatives so you have plenty of delicious choices. You can taste vegan Japanese food alternatives as you explore, or learn handy hacks about being a vegan in Japan that can be useful throughout your entire trip. Taste a bowl of vegan ramen during a vegan ramen tour, enjoy a vegan sushi food tour in Tokyo, or eat tofu donuts in Harajuku as you discover the best parts of the city! Check out our vegan food tours in Tokyo here on byFood.