Filters
Host Donations (high to low)
Newest First
Price (low to high)
Price (high to low)
Rating
Number of Reviews
Tailor-Made Tours
Can't find what you're looking for? We can plan a custom-made food experience or itinerary just for you.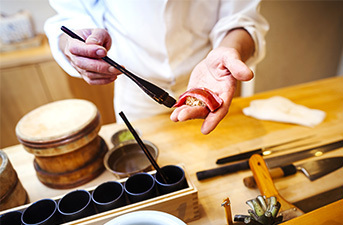 Book a Halal Cooking Class in Japan
With over 100,000 Japanese restaurants abroad, Japanese cuisine is gaining popularity overseas. People around the world want to learn to make Japanese food in their own home kitchen, but might feel overwhelmed by the number of unfamiliar ingredients. If you'd like to learn how to cook Japanese food but don't know where to start, joining a cooking class in Tokyo is a great place to start your culinary journey. Or, learn how to cook regional Japanese food such as takoyaki during a cooking class in Osaka, or traditional dishes in the ancient capital during a cooking class in Kyoto.
Regardless of your dietary needs, you can enjoy food in Japan. That includes halal food experiences. If you abide by Islamic dietary restrictions, there are halal cooking classes in Japan just for you. Browse the list of pork and alcohol-free Japanese cooking classes and find one that interests you. Explore Japanese traditions and culture through food and join a halal ramen, halal okonomiyaki, or halal sushi experience! Once you know which ingredients to use, the proper cooking technique, and the pitfalls to avoid, you'll be able to make traditional Japanese food yourself. A halal cooking class in Japan will be the highlight of your trip!