Tailor-Made Tours
Can't find what you're looking for? We can plan a custom-made food experience or itinerary just for you.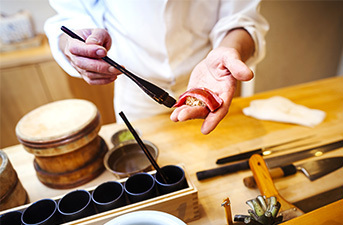 Frequently Asked Questions
How to reserve sushi restaurants in Kyoto?
You can secure a table at a sushi restaurant in Kyoto by directly calling the sushi restaurant in advance. Some foreign travelers have difficulties doing this due to the language barrier, so an alternative is to use a restaurant reservation service on the internet. Websites like byFood help foreigners make reservations. You can narrow down the area where you would like to eat and find restaurants that fit your budget using a range of filters on byFood. Once you have found a Kyoto sushi restaurant that you would like to dine at, simply make a reservation by entering your details on the sushi restaurant page. ByFood will contact the restaurant on your behalf and email you with a confirmation if the reservation is successful. If the sushi restaurant is unable to take your reservation, you will receive a declined email.
Is a reservation required for sushi restaurants in Kyoto?
Some sushi restaurants in Kyoto will not take reservations, but others will definitely require one. This will depend on the individual sushi restaurant, however if you want to go to a high-end restaurant then a prior reservation is always needed.
What is the average cost of a meal at sushi restaurants in Kyoto?
This depends on the type of sushi restaurant and the ingredients they use, however you can expect to pay around 2500 yen for sushi at a restaurant in Kyoto. The price at conveyor belt sushi restaurants depends on each plate you eat (with some plates starting as low as 100 yen each), and there are also high-class sushi restaurants which can cost between 5000 yen and 10,000 yen, or more.
Sushi Restaurants in Kyoto
Like with all dishes served up in the beautiful capital of Kyoto, sushi is no exception when it comes to high-quality Japanese food. Simple yet elegant, sushi is a classic and quintessential Japanese dish that is pared back in its elements but incredibly delicious. Sushi restaurants in Kyoto are not only impeccable when it comes to aesthetics but are also made from fresh ingredients across the board. Woven throughout the city's tapestry of temples and shrines, Kyoto sushi restaurants specialize in using local ingredients and fresh fish, ensuring quality and careful craftsmanship in every bite-sized piece.
Whether your sushi in Kyoto is served up in an immaculate maki roll or as a set meal made up of individual nigiri sushi pieces (perfectly molded by the hand of a professional sushi chef), sushi restaurants in Kyoto always deliver a delicious sushi meal every time, always living up to a high standard as found in all restaurants in Kyoto. With quality ingredients and skilled preparation that requires years of training, sushi in Kyoto it is always beautiful and flavorful. You can enjoy sushi that is artfully served to you at a traditional family-run restaurant hidden down one of Kyoto's back streets, or you can try choosing your favorite dishes straight off of a conveyor belt at a kaiten sushi restaurant (with new plates added as the sushi chef prepares them).
Trying sushi in a variety of ways is easy when there are so many different sushi restaurants in Kyoto. Whether they be colorful or fresh, upscale or humble, whatever kind of sushi dining experience in Kyoto that suits your fancy, eating sushi in the cultural capital seems fitting! Make sure you try some of the best sushi in Kyoto and reserve your seat in a Kyoto sushi restaurant before you visit. If you want to try sushi at a Michelin-starred restaurant in Kyoto, there are options for an exquisite sushi experience when you reserve with byFood.