Filters
Michelin
1 Michelin Star
2 Michelin Stars
3 Michelin Stars
Bib Gourmand
Michelin Green Star
Tailor-Made Tours
Can't find what you're looking for? We can plan a custom-made food experience or itinerary just for you.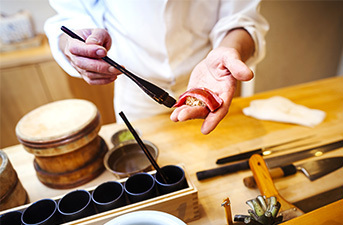 Frequently Asked Questions
How to reserve Michelin star restaurants in Kyoto?
Customers can usually reserve a table at a Michelin star restaurant in Kyoto by calling the restaurant itself. However, this process is not guaranteed to be seamless, especially if the Japanese language presents a challenge. To make sure that you do not miss out on eating at a coveted Michelin-starred restaurant in Kyoto, a simple solution is to reserve using an online booking platform. Using a site such as byFood, you can easily search and reserve the perfect restaurant online by filtering your desired dining location, cuisine, and budget. ByFood has restaurant pages which you can easily add your reservation details into, and then the platform will reach out to the restaurant on your behalf. An email will be sent to you if the reservation is successful, or a failed reservation email will be sent to notify you if it is not successful.
Is a reservation required for Michelin star restaurants in Kyoto?
Yes, reservations are required at Michelin-starred restaurants in Kyoto, as they are very popular both among tourists and local foodies. Most are usually booked up months in advance, so you need to place a reservation early to lock in a Michelin-starred restaurant experience in Kyoto.
What are the best Michelin star restaurants in Kyoto?
Holding a high status as one of only seven 3-star Michelin restaurants in Kyoto, "Kichisen" is coveted for its traditional tea ceremony banquets known as cha-kaiseki. This is exquisitely presented multi-course dining. Serving up exceptional Japanese kaiseki cuisine in a traditional setting, 400-year-old "Hyotei" is also known for being one of the best Michelin-starred restaurants in Kyoto. "Nakamura" is another incredibly popular Michelin-starred restaurant in Kyoto, famous for its quality kaiseki with a view of a traditional Japanese garden.
How many Michelin star restaurants are in Kyoto?
Kyoto has 105 Michelin-starred restaurants as of 2020, with over 200 other restaurants in Kyoto given a Bib Gourmand rating.
Why does Kyoto have so many Michelin stars?
Kyoto has so many Michelin stars for its consistently high-quality restaurants throughout the city and fierce competition among innovative chefs. The city has been built on a solid culture that appreciates craftsmanship and high-quality food, so it is no surprise that they serve exceptional cuisine that is awarded the coveted Michelin stars. Some of the most elegant Japanese cuisines originated in Kyoto, such as kaiseki and cha-kaiseki (banquet style multi-course meals with roots in the traditional tea ceremony) and shojin ryori (the vegetarian cuisine of Buddhist monks).
Michelin Star Restaurants in Kyoto
Between hopping among Kyoto's beautiful temples and shrines, you can taste the best food in Kyoto at one of the best Michelin star restaurants. From backstreet restaurants that have been family-run for generations, through to the fine dining Michelin-starred restaurants available in the busy downtown area, some of Kyoto's Michelin star restaurants have a legacy stretching back centuries. Experience the full traditional dining experience sitting on a tatami floor for Michelin-rated shojin ryori (Buddhist cuisine) at vegan restaurants, or grab yourself a counter seat at a specialty sushi restaurant.
Some Michelin-starred restaurants in Kyoto have a long history of food and tea service. You can try the finest Kyoto cuisine in a set meal or a bento box style, as well as luxurious sit down banquets at Kyoto's best kaiseki restaurants with exquisite Japanese cuisine. In a city so committed to creativity and craftsmanship, the caliber of Kyoto's Michelin-starred restaurants are certainly second to none. Some specialize in quality kaiseki cuisine, a traditional banquet style that's made up of different courses, each featuring a different cooking style that celebrates ingredients and signature flavors of the season. Each dish of kaiseki is delicate, diverse, and delicious. You may have never seen food that's as beautifully presented as at Michelin star restaurants in Kyoto.
From atmosphere and hospitality to the amazing food (of course), Kyoto will offer an exquisite Michelin-starred dining experience that you will not want to miss out on. To secure one of the most unforgettable gourmet experiences of your life, you can reserve a seat at a Michelin restaurant in Kyoto with byFood. Reserve your Michelin-starred lunch or dinner in Kyoto for a deep cultural and culinary adventure.