Filters
Michelin
1 Michelin Star
2 Michelin Stars
3 Michelin Stars
Bib Gourmand
Michelin Green Star
Tailor-Made Tours
Can't find what you're looking for? We can plan a custom-made food experience or itinerary just for you.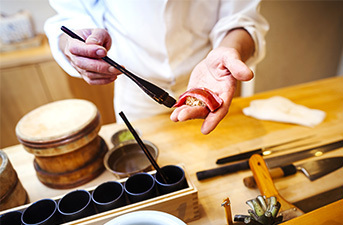 Frequently Asked Questions
How to reserve Michelin star restaurants in Osaka?
Reserving a Michelin-starred restaurant in Osaka can be done over the phone, in most cases. However, depending on the restaurant, there may not be English-speaking staff available. There are multiple reservation services online which aim to help foreigners make restaurant reservations. Thanks to platforms like byFood, you do not have to miss out on specialty restaurants or Michelin-starred experiences. You can use byFood to easily filter restaurant categories, such as Michelin-starred restaurants, as well as dining options based on location, cuisine, and budget. Once you have selected which Michelin-starred restaurant in Osaka you would like to dine at, you can easily write your reservation request details directly into the restaurant page. ByFood will take it from here and contact the restaurant on your behalf, sending you a confirmation email if the reservation is successful. If the reservation cannot be made, you will receive a rejected reservation email notification.
Is a reservation required for Michelin star restaurants in Osaka?
Yes, as Michelin-starred restaurants in Osaka are in high-demand, so a reservation is required ahead of time. Reserve ahead of time to make sure you do not miss out on a Michelin-starred dining experience in the foodie capital of Osaka! Note that many Michelin-starred restaurants may be completely booked up, even months in advance, so be sure to make your reservation early.
What are the best Michelin star restaurants in Osaka?
One of the best Michelin star restaurants in Osaka is "Taian," which serves a modern approach to fine-dining kaiseki cuisine. Known for innovative cuisine, 3 Michelin-starred "Hajime" by Hajime Yonda serves up incredible French menus in Osaka. Meanwhile, the traditional culinary art of seasonal Japanese cuisine mingles with modernity at "Kashiwaya," another 3-star Michelin restaurant in Osaka.
How many Michelin star restaurants are in Osaka?
In the 2020 Michelin Guide, Osaka was listed with 99 Michelin-starred restaurants. Over 200 additional restaurants were given the title of Bib Gourmand.
Why does Osaka have so many Michelin stars?
Osaka is the city in Japan that is absolutely enamored by food, which explains why they have so many high-quality restaurants. Known as "Tenka no Daidokoro" (literally "The Nation's Kitchen"), Osaka is proud of its cuisine. The birthplace of Kappo Ryori, a style of cuisine that is similar to the multi-course Kaiseki Ryori, but with emphasis on the interaction between the chef and guest, restaurants in Osaka exhibit warm hospitality. On top of that, the driven chefs of Osaka are always innovating, just another reason why the city has earned itself so many Michelin stars.
Michelin Star Restaurants in Osaka
Osaka is known for its luxurious food culture and morish street food, like sizzling slabs of the city's signature okonomiyaki.. The people of the Kansai region are known for loving all food, with thousands of restaurants in Osaka filled with diners all day long. With its controlled mayhem of street food stalls, Osaka makes an exciting destination for the foodie-inclined. If you are looking for Japanese food on the higher side of life, however, fine dining experiences and exceptional cuisine coexist alongside this casual approach to local food. The best of the best culminates in Osaka's numerous Michelin-starred restaurants. Dining at one of the Michelin star restaurants in Osaka will be an absolute highlight of your trip to Osaka that you will not want to miss out on!
Try Michelin-starred tempura or dine at a Michelin-rated sushi restaurant, or maybe even discover Michelin ramen in Osaka. There are also many kaiseki restaurants in Osaka with a star or two, dishing up different courses in Japan's traditional multi-course banquet style of dining. Some Michelin star restaurants in Osaka have been operating over generations, with delicious Kansai secrets passed down over the years and rock solid reputations. Why not soak up the unique atmosphere of an Osaka Michelin-starred restaurant and match your multi-star meal with some quality sake?
Whether it be a sleek and chic Michelin star restaurant in Osaka serving European-style cuisine, to a more family-operated traditional Japanese restaurant, the food will always be impeccable. With a diverse menu on offer at each restaurant, whatever you order will definitely be made from quality ingredients and refined techniques by professional chefs. Make the most of the best Michelin star restaurants in Osaka available and reserve ahead to secure your seat for an unforgettable gourmet dining experience. With options to suit your budget and satisfy your tastebuds, byFood is the best place to book!