Filters
Host Donations (high to low)
Newest First
Price (low to high)
Price (high to low)
Rating
Number of Reviews
Tailor-Made Tours
Can't find what you're looking for? We can plan a custom-made food experience or itinerary just for you.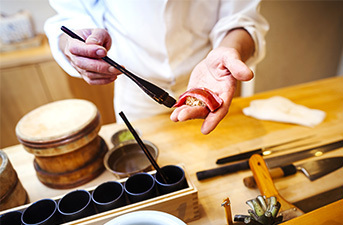 Join Hands-on Vegetarian Cooking Classes in Osaka
Do you fancy yourself a bit of a whiz in the kitchen? What about when it comes to vegetarian food? Well, Osaka is famous for its hearty Kansai cuisine, offering a range of delicious, plant-based Japanese dishes that are meat-free. Slabs of delicious okonomiyaki and deep-fried kushikatsu skewers come to mind, however, these typical dishes don't only have to be meat-focused. In fact, vegetarian versions can be absolutely scrumptious as well! You can replace meat in okonomiyaki with mochi (which gives an additional stretchy texture) or you can make all types of vegetables into diverse bites of kushikatsu. You can learn the secrets to cooking Kansai cuisine, but hold the meat, by joining one of our vegetarian cooking classes in Osaka! It makes for a fun and hands-on cultural experience, which seems totally fitting when visiting the foodie capital of Japan! Try your hand at making delicious veggie dishes during one of our vegetarian cooking classes in Osaka. You can make noodles from scratch or join vegetarian sushi making classes right here in Osaka!