Tailor-Made Tours
Can't find what you're looking for? We can plan a custom-made food experience or itinerary just for you.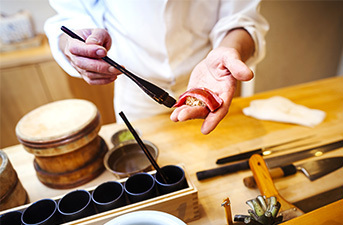 The savior of stressed college students around the world, this Japanese noodle soup is known by most as a quick and convenient snack. In Japan, however, it's a different story entirely; here you can enjoy huge, hearty bowls of fresh noodles, stacked with enough vegetables and meat to keep you going all day. When you see how seriously these chefs take the flavor of their broths, you'll understand why some actually hold Michelin stars for their efforts!
There are tens of thousands of ramen restaurants in Japan, and each has put their own twist on the dish, taking the simple noodle soup formula and expanding upon it with a healthy dose of inventiveness. There's the rich, earthy flavors of miso ramen, and the hearty, spicy curry ramen — both perfect as winter warmers. For a more refreshing summer meal try some hiyashi chuka (which literally translates to "chilled Chinese"), a type of Chinese-style dish made with cold ramen noodles, a light sauce, and crunchy veggie toppings. There's also tsukemen, a type of dipping ramen, in which the noodles are served cold and dipped into a separate bowl of concentrated soup, one bite at a time.
That's the great thing about Japanese ramen — the possibilities are endless, and there's always something new to discover. Forever looking to modernize, some ramen shops have even started serving halal ramen for Muslim diners. Have a look at all the fantastic Japanese ramen restaurants we cover here, and see which takes your fancy.