Tailor-Made Tours
Can't find what you're looking for? We can plan a custom-made food experience or itinerary just for you.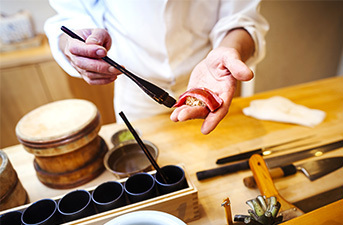 The most famous landmark in all of Japan — Mount Fuji — sits like a crown atop this central Japanese prefecture. It's a land of rivers and lakes teeming with fish, orchards and tea fields stretching for miles across hillsides, and picturesque coastline dotted with port towns.
The local Shizuoka cuisine features the best of all these worlds, with delicacies like Japanese unagi eel and the tiny sakura ebi shrimp. Tea lovers will have the chance to discover the roots of their favorite Japanese beverage with our Shizuoka tea farm experiences too!
To sample all the delicious food on offer, take a look through our collection of Shizuoka restaurants and reserve your seat with just a few simple clicks. Whether you've come to conquer Fuji-san, or just for a relaxing retreat on Japan's Riviera, you'll find plenty of exciting dining options to make the most of every meal here.