Tailor-Made Tours
Can't find what you're looking for? We can plan a custom-made food experience or itinerary just for you.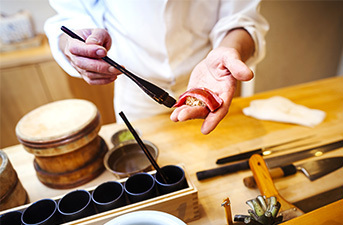 Frequently Asked Questions
How to reserve sushi restaurants in Tokyo?
Sushi restaurants in Tokyo usually take reservations over the phone, but this, of course, depends on the sushi restaurant. However, phone reservations can be difficult if you do not speak Japanese. The best option to reserve sushi restaurants in Tokyo is to use an online reservation service. Platforms like byFood help foreign travelers to make reservations at restaurants. You can easily use byFood to filter for the type of Tokyo sushi restaurant you would like to eat at, and in which area of Tokyo. This makes it easy to narrow down sushi restaurant options and make a reservation. Just add in your details to the sushi restaurant page, and byFood will submit a reservation request on your behalf. When the reservation is successful, you will receive a confirmation email. Otherwise, you will receive a rejection email.
Is a reservation required for sushi restaurants in Tokyo?
Not all sushi restaurants in Tokyo require a reservation, however some do. This depends on the sushi restaurant of course, but usually it is not necessary for casual sushi restaurants, like sushiya at markets and conveyor belt sushi restaurants. If you want to try high-end sushi, reserving a Tokyo sushi restaurant is almost essential, and definitely recommended as they are very popular. Some sushi restaurants in Tokyo are often reserved many months in advance.
What is the average cost of a meal at sushi restaurants in Tokyo?
This depends on the type of sushi and the restaurant. Conveyor belt sushi restaurants where you pay per plate means that the price will depend on what you eat. If it is a mid-range sushi restaurant in Tokyo, you can expect to pay around 3000 yen for a set meal, sushi bowl, or several plates from a sushi train. Upscale sushi restaurants start from 5000 yen per head, but can cost much more.
Sushi Restaurants in Tokyo
Trying different types of sushi at sushi restaurants in Tokyo is certainly exciting if you are a seafood fan. Undeniably, diverse dining experiences in Tokyo await at each and every one of the city's incredible sushi restaurants. Sushi restaurants in Tokyo of course have access to the freshest fish and seafood, delivered directly to the city's famous Toyosu Wholesale Fish Market each day. With quality products readily available from the largest fish market in the world, you are guaranteed high-quality sushi no matter which sushi restaurant in Tokyo you find yourself in.
Sushi restaurants in Tokyo range from sushi trains in the heart of Shibuya (with individual plates starting at 100 yen each) to family-run sushi restaurants serving up fresh kaisendon sushi bowls and nigiri sushi sets. Traditional sushi restaurants and upscale sushi restaurants await, no matter what your budget. While there are still so many excellent affordable options like at tiny counter seat restaurants (where the chef prepares it in front of you), some more classy options include Michelin-starred restaurants in Tokyo which serve up the most high-end sushi imaginable. In the hospitable spirit of "omakase" hospitality, enjoy your seasonal sushi menu that is chosen for you by a specialty sushi chef, with each piece carefully hand-pressed with years of training.There is always a new kind of sushi adventure waiting around the corner in Tokyo!
Arguably one of the best Japanese foods available, you can find incredibly high-quality sushi in any pocket of the enormous city. However, with so many options it can be overwhelming finding the best of the best. Don't miss out on the best sushi restaurants in Tokyo, reserve your unique Tokyo sushi dining experience for some of the best sushi you will eat in your lifetime!