Tailor-Made Tours
Can't find what you're looking for? We can plan a custom-made food experience or itinerary just for you.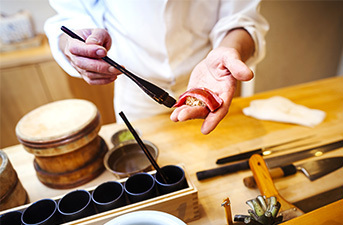 Frequently Asked Questions
How to reserve restaurants in Kyoto?
Most restaurants in Kyoto allow customers to make reservations over the phone, however this is not always easy. Despite the rise of tourism in Kyoto, due to language barriers this task can often be quite difficult. If you cannot reserve directly through the restaurant's website, the best way to reserve a restaurant in Kyoto is to use an online reservation service. There are many sites that help foreigners to make reservations, which is especially useful since many restaurant websites and Japanese booking sites can be hard to navigate. An online platform like byFood will allow you to select restaurants in Kyoto and filter them by cuisine and area. This makes it easy to reserve ahead. Customers can easily add their reservation details into the restaurant reservation page, and byFood will make a reservation on behalf of the guest. ByFood will then send a confirmation email if the reservation is approved, or send a failed reservation email if it is unsuccessful.
Is a reservation required for restaurants in Kyoto?
Not all restaurants in Kyoto require a reservation, however in some cases making a reservation is essential. Casual restaurants and most izakayas welcome walk-ins, however popular or fine dining restaurants usually require a reservation ahead of time, like kaiseki or kappo restaurants. Michelin-starred restaurants in Kyoto definitely require an advance reservation, and some should be reserved several months before.
What is the average cost of a meal at restaurants in Kyoto?
The average cost of lunch at a casual restaurant in Kyoto will be approximately 1500 yen to 2500 yen. Dinner meals at restaurants in Kyoto average somewhere between 5000 and 15000 yen, depending on the restaurant.
Best Restaurants in Kyoto
Unprecedented in quality, every Kyoto restaurant incorporates the best of local produce and seasonal offerings into fresh, immersive Japanese food menus. Culinary creativity runs through the city like its waters. In fact, you can dine in the open air over Kyoto's rivers in summer, or lose yourself for a night dining in the converted wooden machiya buildings of downtown Pontocho. Somewhere tucked away in the grid of Kyoto's backstreets, family-run restaurants greet strangers and regulars alike, offering unique dining experiences. Side street shop fronts steam with ramen broth and specialty tofu dishes. High-caliber kaiseki dining experiences await in Kyoto's many Michelin-starred restaurants, serving experiential feasts celebrating ingredients of the season.
Holding tradition and craftsmanship at the city's core, restaurants in Kyoto always offer an unforgettable atmosphere and high-quality Japanese cuisine to match. Marvel at the exquisite textures and stunning aesthetics evident in even the finest culinary details. Kyoto restaurants arrange their food on their plates just so; beautifully and crafted with skill like edible art. Discover some of the best food in Kyoto when exploring in this cultural hub, bursting with its own regional food. Feast upon local cuisine known as Kyo-ryori, made from the freshest seasonal produce, or taste vegetarian Buddhist cuisine when you sit down to an authentic shojin ryori meal.
Fine Kyoto cuisine can be found at its beautiful restaurants with wonderful culinary surprises in every bite. Exploring Kyoto's backstreets and buzzing markets mean that you might stumble upon the city's best hidden local gems. Don't miss a thing, see more of the city's best restaurants during a Kyoto food tour, or settle in for a memorable dining experience in Kyoto by booking ahead of time on byFood.