Filters
Host Donations (high to low)
Newest First
Price (low to high)
Price (high to low)
Rating
Number of Reviews
Tailor-Made Tours
Can't find what you're looking for? We can plan a custom-made food experience or itinerary just for you.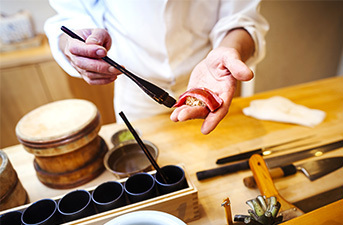 Find Top Halal Cooking Classes in Tokyo
Save yourself the trouble of finding where to eat in Tokyo for halal food options, cut out the middleman and learn how to cook some for yourself! Halal cooking classes in Tokyo make for a great cultural experience to add to your Tokyo trip, plus they have the fantastic benefit that anyone can join them! While these halal cooking classes in Tokyo have no pork products and are alcohol-free, there are still plenty of umami-rich flavors that you can learn how to make for yourself. From halal sushi to wagashi sweets, there are so many delicious recipes you can create from halal ingredients on your next trip to Tokyo. Jump in and discover Japanese culture first-hand by making delicious and inclusive halal Japanese food at a local cooking class or a home cooking studio! Learn new skills and make new friends all without worrying about the ingredients, it's taken care of. Many of our cooking classes can have their recipes easily adapted fit halal dietary requirements, so jump in and book one of our halal cooking classes in Tokyo for an unforgettable cultural experience.