Tailor-Made Tours
Can't find what you're looking for? We can plan a custom-made food experience or itinerary just for you.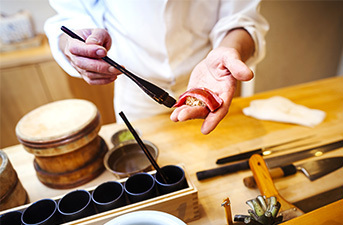 As part of the mountainous heartlands of Japan, Gifu Prefecture is known for great hiking, fantastic snow sports, and secluded villages seemingly frozen in time by the snows resting on their rooftops. This is a place for culture vultures and outdoor adventurers alike — in the morning you could be making your way through a rugged mountain pass, and in the afternoon settling down on the tatami with a cup of tea at a centuries-old Japanese ryokan inn.
Gifu's mountain slopes yield some fantastic foods too, including the prized Hida wagyu beef, and succulent persimmons. And although the prefecture is landlocked, its rivers still provide it with some fantastic fish like Japanese unagi eel and sweetfish, both in season throughout summer.
Whether you're looking for regional Gifu delicacies like keichan — chicken thighs stir-fried with cabbage and garlic soy — or excellent worldwide cuisine, these best Gifu restaurants can satisfy your cravings. With byFood's reservation system, once you've found the ideal place, you'll be able to reserve your spot with just a few clicks!
If you want to dive even further into the culinary culture of Gifu, hop on one of our Gifu food experiences while you're at it.