Filters
Host Donations (high to low)
Newest First
Price (low to high)
Price (high to low)
Rating
Number of Reviews
Japanese Food Cooking Competition: Team Building Experience
Promote collaboration and competition among your team! During this cooking class, you'll split into groups and duke it out in the kitchen, working together to create a meal of 2-3 traditional Japanese dishes for the judge's consideration.
Tsukiji Market and Cooking Battles for Team Building
Bring your team together during an unforgettable time at Tsukiji Market! Experience the hustle and bustle of the market and join in a fun cooking battle with your colleagues, giving you the chance to bond, collaborate, and create lasting memories.
Japanese Fake Food Samples: Plastic Parfait Class in Fukuoka
Learn how to make your own shockingly realistic Japanese plastic food samples during this "shokuhin sanpuru" workshop in Fukuoka. Choose from different parfait "flavors" and decorate your food sample as you like, unleashing your creativity.
Tailor-Made Tours
Can't find what you're looking for? We can plan a custom-made food experience or itinerary just for you.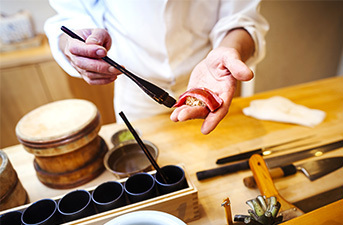 Join The Best Kosher Cooking Classes in Japan
Excited to try Japanese food, but not sure where to eat kosher food in Japan? If you're struggling to eat kosher in Japan, just know that there are a variety of Kosher cooking classes in Japan that are available right here. Explore Japanese food culture, learning Japanese cooking tips and tricks from experts, without any worries about finding kosher food in Tokyo, Kyoto, Kagoshima, and other areas of Japan!
Trying authentic Japanese cuisine is one of the most unique and enjoyable parts about visiting Japan, and by joining a cooking class in Japan, you can truly experience the culture firsthand. Immerse yourself in the world of Japanese food by learning about classic Japanese ingredients, preparing dishes with tips from a cooking instructor, and eating a delicious meal. And it's all kosher! Make delicious kosher sushi, handmade soba noodles, and colorful bento boxes. Then, take home the recipes and make kosher Japanese food for your friends and family!