Some of the finest food in the world can be found in Tokyo, but where to start? Joining a food tour in Tokyo is the best way to experience the tastiest bites in town, especially considering this megacity is home to 137,000+ restaurants!
Filters
Host Donations (high to low)
Newest First
Price (low to high)
Price (high to low)
Rating
Number of Reviews
Tailor-Made Tours
Can't find what you're looking for? We can plan a custom-made food experience or itinerary just for you.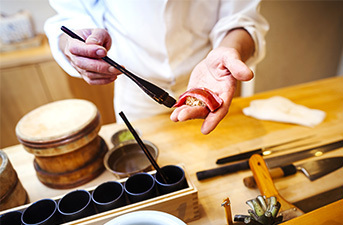 Frequently Asked Questions
Where Can I Find the Best Food in Tokyo?
The best food in Tokyo is scattered throughout town—from central city locations to residential neighborhoods. A Tokyo back alley (yokocho) food tour is another great place to track down some tasty bites.
What is the Most Popular Food in Tokyo?
The limit does not exist. Mouthwatering sushi, crispy karaage, plump gyoza, decadent ramen, piping hot yakitori, pillowy takoyaki… We'll stop before we start drooling.
What Are the Best Tokyo Food Tours With Kids?
Street food and food market tours are a safe bet when you've got kids in tow. These tours tend to involve sightseeing and walking, which serves as ideal entertainment for little ones with short attention spans. Any tours involving interactivity are also a sure thing! Think of hand-making sweets and any tour with a cooking component.
Does Tokyo Have Good Nightlife?
Yes! Tokyo is a 24-hour city with a high-energy nightlife scene. After a late-night food tour in Tokyo? Shibuya has got you covered. Fancy a food and sake tour in Tokyo? Golden Gai and Omoide Yokocho in Shinjuku won't let you down.
What Can I Expect From a Tokyo Food Tour?
The limit does not exist! Our Tokyo Food Tours offer a range of culinary adventures, so you have endless possibilities. Some of our most popular experiences include walking food tours, izakaya hopping, street food adventures, sushi escapades, ramen experiences, and back alley (yokocho) tours.
What Types of Food Can I Expect To Try on a Tokyo Food Tour?
Our Tokyo Food Tours offer a range of Japanese culinary delights! You can expect Tokyo Food Tours that feature foods including ramen, gyoza, sushi, takoyaki, yakisoba, yakitori, kaiseki, various street foods, and more.
How Long Does a Tokyo Food Tour Last?
It varies depending on the type of experience; however, typically you can expect a Tokyo Food Tour to last anywhere from 1 hour to 3 or 4 (if visiting multiple locations).
Are There Vegetarian or Vegan Options Available on a Tokyo Food Tour?
Yes! There are plenty of Tokyo Food Tours that cater to dietary restrictions, including vegetarian and vegan. On the listing page, you can filter experiences by selecting your dietary restriction and applying the filter to see all the experiences that fit your needs.
How Do I Book a Tokyo Food Tour?
First, use the search bar and filters to find a specific experience. Then, select the date for the experience and the number of participants. Add extra information–such as dietary restrictions–in the additional notes section. Then, make the payment. If the host has set the experience to 'Instant Confirmation,' the booking will be confirmed automatically. If the host has set the experience to 'Manual Confirmation' the host will either confirm or reject your booking. You'll likely receive a reply within one business day. After confirmation, you will receive detailed meeting instructions and access info.
Can I Customize a Tokyo Food Tour to My Preferences?
Yes, you can fully customize your Tokyo Food Tour experience based on your preferences. By using the search bar and filters, you can select from a range of options to narrow down a Tokyo Food Tour experience that's perfect for you.
Tour Tokyo via Food
Tokyo–the buzzing capital city of Japan and home to a jaw-dropping 124.9 million people–is a gastronomic paradise for food lovers. Renowned for its diverse culinary scene, Tokyo offers many food experiences that will tantalize your taste buds and leave a lasting impression. Attention foodies: From crispy karaage and pillowy gyoza to decadent ramen and fresh sushi, we've got a Tokyo food tour for you!
The Best Food Tours in Tokyo
Tokyo is home to some of the finest sushi restaurants in the world. Tokyo has it all if you're looking for a Michelin-starred establishment or a humble sushi-ya tucked away in a narrow alley. The sushi here is prepared with the utmost precision and attention to detail, using the freshest ingredients sourced from local and international waters. From the rich, fatty cuts of tuna to the delicate flavors of uni (sea urchin), every bite of sushi in Tokyo is a revelation. Now, where to start? From bayside fish markets to a Tokyo street food tour, the best sushi in Tokyo won't be hard to come by.
Another must-try food experience in Tokyo is ramen. This beloved noodle dish has a cult following in the city, with countless ramen shops scattered throughout its neighborhoods. Each shop boasts its own unique style and flavor, from the rich and creamy tonkotsu (pork bone) broth to the spicy and tangy miso broth. Slurping a piping hot bowl of ramen in a cozy shop is an experience that will warm both your body and soul.
The Best Street Food in Tokyo
Tokyo is also a haven for street food enthusiasts, but where to find the best street food in Tokyo? If you're eager to get in, a walking food tour through the bustling streets of Shibuya or Shinjuku will serve you well. Here you'll find energetic food stalls offering an array of delectable treats. Takoyaki, a popular street food snack, consists of small, savory balls filled with diced octopus, topped with tangy sauce, mayonnaise, and bonito flakes. Yakitori, skewered and grilled chicken, is another favorite, with various cuts and flavors available, including succulent chicken thighs and crispy chicken skin. Going in search of these street food delights allows you to immerse yourself in the vibrant food culture of Tokyo and interact with friendly vendors, making it one of the best food tours for solo travelers. Another great way to taste Japanese street food is by joining a bar-hopping tour in Tokyo, which will take you to several Japanese bars and pubs.
Tokyo Food Markets
Tokyo is also a haven for food markets, where you can explore a plethora of fresh produce, seafood, and street food. This is where some of the best food tours in Tokyo take place. Tsukiji Fish Market, one of the largest fish markets in the world, is a must-visit for seafood enthusiasts. Witness the lively auction of the morning's catch and indulge in some of the freshest sushi and sashimi. Ameya-Yokocho Market, affectionately known as "Ameyoko," in Ueno is another lively market where you can find a wide range of goods, including fresh fruits, spices, clothes, and street food. The market's vibrant atmosphere and diverse offerings make it a treasure trove for foodies and bargain hunters.
Michelin Dining Experiences
Moving from markets to Michelin, Tokyo is home to many upscale dining experiences. The city boasts many Michelin-starred restaurants, offering exquisite Japanese and international cuisines. This is where to go if you're after the best food tours in Tokyo to avoid crowds. These fine dining establishments showcase the pinnacle of culinary artistry, combining exquisite flavors, innovative techniques, and impeccable presentation. From kaiseki, a traditional multi-course Japanese meal, to French haute cuisine with a Japanese twist, Tokyo's fine dining scene is a gastronomic adventure that will stay with you forever.
Specialty Tokyo Food Tours
Tokyo offers various food experiences that cater to every palate and preference. While traveling with dietary restrictions may come with concerns, we're here to ease your woes. In the past, Japan has had a reputation for being difficult to navigate regarding food allergies or restrictions. However, the land of the rising sun has come a long way (especially since the Olympics and especially in Tokyo). Whether indulging in fresh bites of sushi, feasting on street food delights, immersing yourself in themed restaurants, or uncovering the best secret food tours in Tokyo, this city is the place to experience it all.