Filters
Michelin
1 Michelin Star
2 Michelin Stars
3 Michelin Stars
Bib Gourmand
Michelin Green Star
Tailor-Made Tours
Can't find what you're looking for? We can plan a custom-made food experience or itinerary just for you.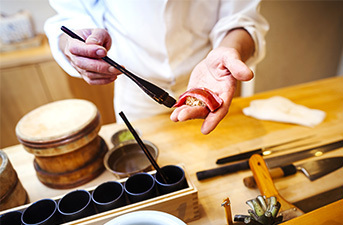 Michelin Star Restaurants in Japan
Japan is well known for having the most Michelin stars, with Tokyo alone taking its place as the city with the most Michelin-starred restaurants in the world. Japan lives and breathes different types of food made from quality, seasonal ingredients that are carefully crafted with skill, creativity and tradition. This creates amazing Japanese cuisine, where some of the best Japanese food culminates in the amazing Michelin-starred restaurants in Japan. Not only in Tokyo, but the best Michelin restaurants in Japan offer many delicious local delicacies throughout the country.
Offering diverse menus, some of which focus on one dish such as ramen or katsu, while others take on a broader scope to showcase different aspects of Japanese cuisine. There is an astounding number of Michelin-starred restaurants in Japan that specialize in classic kaiseki cuisine in Kyoto, and the freshest omakase sushi like in Tokyo. Their Michelin-starred menus and recipes have been perfected (in some cases over generations) to overall give Japan's well-earned reputation for serving up incredible food.
Michelin-starred restaurants in Japan each offer unique culinary dining experiences. Some are specialized experts in one type of dish. For example, one restaurant in Osaka might slowly simmer their signature noodle broth for hours with special ingredients. Or, you could enjoy watching your Michelin-starred meal in Japan grilled directly in front of you on a sizzling teppanyaki hot plate by professional chefs. With consistently good access to quality fish, regional vegetables and meat such as top grade wagyu beef, don't miss out on a Michelin-starred experience. Save your spot at a Michelin-rated restaurant in Japan for an unforgettable dining experience and make a reservation before you go using byFood.
Frequently Asked Questions
How to reserve Michelin star restaurants in Japan?
You can reserve Michelin star restaurants in Japan by directly calling the restaurant. However, depending on the establishment, you might come across difficulties if there is a language barrier involved or if the restaurant is popular. A stress-free alternative to reserving your seat at a Michelin-starred restaurant in Japan is to use an online booking service to help you. There are a few platforms that can help foreigners to reserve Michelin-starred restaurants in Japan beforehand, as reservations are often needed months in advance. ByFood is one of the best options. The platform offers options to filter restaurants according to cuisine type, budget, and location, to easily search your desired Michelin-starred restaurant. On the restaurant page, simply add in your reservation details and byFood will handle the rest, making the reservation on your behalf. If the reservation has been successful, you will receive a confirmation email notification. Easy as that. It is unsuccessful, however, you will receive a failed reservation email notification.
Is a reservation required for Michelin star restaurants in Japan?
Yes, due to popularity and the coveted nature of Michelin-starred restaurants in Japan, you must make a reservation before you go. It is not unusual for a Michelin-starred restaurant in Japan to be completely booked 3-6 months in advance, so make sure to reserve ahead of time.
What are the best Michelin star restaurants in Japan?
Michelin-starred restaurants can be found all over Japan, however the city with the most Michelin stars in the world continues to be Tokyo. Throughout the country, there are so many amazing 3-star Michelin restaurants. "Kanda" in Tokyo is amongst the best kaiseki restaurants in the city alongside "Kagurazaka Ishikawa" and "Ryugin." In Kyoto and Osaka, "Gion Sasaki" and "Kashiwaya" respectively make exceptional Japanese food. "Nakashima" in Hiroshima represents some of the finest foods in southern Japan, serving up family-run kaiseki cuisine, of course running alongside the 3-star sushi restaurants in Fukuoka: "Sushi Gyoten" and "Sushi Sakai." Browse our Michelin-starred restaurants to read more about these highly-regarded restaurants.
How many Michelin star restaurants are in Japan?
As of 2020, there are 668 different Michelin-starred restaurants in Japan. 29 of them have 3 Michelin stars, and 124 of them are 2-star Michelin restaurants.
Why does Japan have so many Michelin stars?
Japan's many Michelin stars is a result of several factors. Many fine dining chefs in Japan consider themselves perfectionists. Take Sukiyabashi Jiro, for example, run by a sushi chef whose lifelong quest for perfection inspired the documentary, Jiro Dreams of Sushi. The tireless dedication and pursuit of perfection, shared by so many Japanese chefs, leads to fierce competition, motivating their rivals and driving up the quality of the restaurants. Naturally, the Michelin Guide rewards the artistry and talent of these committed chefs.