Tailor-Made Tours
Can't find what you're looking for? We can plan a custom-made food experience or itinerary just for you.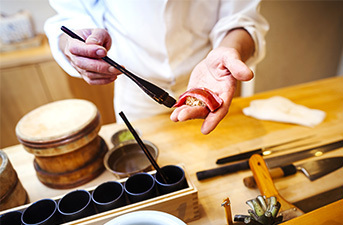 Frequently Asked Questions
How to reserve restaurants in Fukuoka?
Reserving restaurants in Fukuoka can be done by directly making a phone call to the restaurant itself. This, however, can be challenging if you do not speak Japanese as you might be faced with a language barrier, depending on the staff. As a more simple alternative, you can reserve a restaurant in Fukuoka by using a service that assists foreigners in reserving restaurants ahead of time. ByFood is an example of a platform that you use to reserve restaurants in Fukuoka. Using the byFood filtering system, you can see what restaurants are available in Fukuoka. This makes it easy to reserve a table depending on the local area, type of food you want to eat, your budget, and various dietary requirements. Simply add in your reservation details and byFood will secure seats at the restaurant on your behalf and send you a confirmation email. If the reservation is rejected, however, you will be sent a failed reservation email.
Is a reservation required for restaurants in Fukuoka?
Reservations in Fukuoka are not always necessary, but this depends on the restaurant. It is not possible to book at yatai street food stalls for example, but high-end restaurants usually require a booking, or at least it is encouraged.
What is the average cost of a meal at restaurants in Fukuoka?
You can expect to pay about 800 yen for a cheap meal at a restaurant in Fukuoka. Slightly fancier meals can be 1500 yen to 2000 yen at lunch, depending on the restaurant. Fine dining is also available, starting at 5000 yen per person, with prices tending to be more expensive during dinnertime.
Best Restaurants in Fukuoka
With a relaxed atmosphere, Fukuoka is symbolized by its signature "yatai" outdoor food stalls scattered around the city. Usually seating up to around 10 people, it's an intimate and exciting experience when you eat local Japanese food at one of these specialty Fukuoka restaurants! You can leisurely eat and drink outside, soaking up the welcoming atmosphere as you eat simple but tasty local food, freshly prepared by your stall's cook, often running a one-man-show. The best stalls of all are found on Nakasu Island, lined up along the city's neonlit riverside, serving yakitori and drinks until the early morning.
Fukuoka is a lesser-traveled area of Japan, but it is still a popular area for outstanding weather, relaxed atmosphere, and beautiful natural scenery around the northern coastline. Not to forget all the amazing local food in Fukuoka there is to try! A local dining experience in Fukuoka is the perfect chance to try some local spicy pollock roe, known as "karashi mentaiko," or the local specialty of mackerel. If you are visiting in winter, head to a restaurant in Fukuoka to dig into a heart-warming hotpot of motsunabe!
Open-air food stands and unique dining experiences await in Fukuoka, along with so many local foods to try. Discover the best of local ramen, udon, or seafood from this friendly coastal city by booking ahead. Reserving your seat at a Fukuoka restaurant will guarantee an unforgettable meal, such as local Hakata ramen (a local style of tonkotsu ramen -- note the thin noodles in the hearty broth). Don't miss out and reserve now with byFood to experience unforgettable regional food in Fukuoka.