Tailor-Made Tours
Can't find what you're looking for? We can plan a custom-made food experience or itinerary just for you.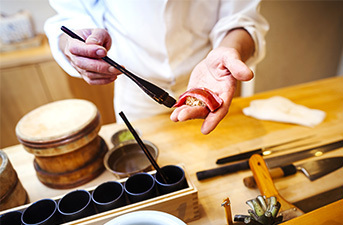 Frequently Asked Questions
How to reserve restaurants in Osaka?
You can contact most restaurants in Osaka directly via phone call to make a reservation. However, depending on the restaurant, this may be difficult due to language barrier. To simplify this process, you can reserve a restaurant in Osaka by using an online service that helps foreigners to reserve ahead, like byFood. ByFood is a platform which allows you to easily filter for different types of restaurants according to food type, location, and dietary requirements. Reserving is easy as you can enter your reservation details into the restaurant page and then byFood will reserve on your behalf. Once the reservation is approved, you will receive a confirmation email. However, if the booking is not approved, you will receive a failed reservation email instead.
Is a reservation required for restaurants in Osaka?
Reservation at restaurants in Osaka is not always required, but this depends on the individual restaurant. Most mid-range restaurants do not require a reservation unless your party is quite large, but very popular restaurants or high-end establishments usually require a reservation ahead of time, and we highly recommend it.
What is the average cost of a meal at restaurants in Osaka?
There are many restaurants in Osaka which offer cheap meals for around 1000 yen each, while when dining at more high-class restaurants you can expect prices starting somewhere around 5000 yen. All-you-can-eat restaurants in Osaka start at around 3000 yen per person.
Best Restaurants in Osaka
In the famous foodie capital of Japan, you will be able to find an outstanding Osaka restaurant in every corner of the city. The excitable energy of Osaka is fueled by its thriving food culture and restaurants in every district. The city center of Namba's okonomiyaki restaurants sizzle away all day, filled with happy diners laughing out in Kansai-dialect late into the night ("kampai!"). Dotombori bustles almost 24 hours a day, alive with its street food stalls (takoyaki octopus balls grilling away) while "tabehoudai" all-you-can-eat restaurants call out for diners to take on the challenge. Feeling really adventurous? You can find fugu restaurants in Osaka serving up ""deadly"" pufferfish. The Shinsekai district's neon lights highlight the golden crusts of deep-fried skewers at its local kushikatsu restaurants. If you want a break from morish Kansai cuisine, find fresh sushi sliced and served up at sushi trains and specialty high-end sushi restaurants in Osaka.
Without a doubt, the city of Osaka absolutely lives and breathes food. The number of restaurants in Osaka is a testament to the city's catch phrase of "kuidaore," which encourages "eating until you drop"! All Osaka restaurants serve up Japanese dishes packed with flavor. Many are Osaka's coveted Michelin-starred restaurants, while others are local neighborhood cafes and hidden izakayas. The opportunities for adventure at restaurants in Osaka are seemingly endless. To discover the best street food restaurants of the city, join a food tour in Osaka and explore local gems. Or make a reservation through the byFood platform and prepare for an unforgettable meal during an Osaka restaurant dining experience.