Tailor-Made Tours
Can't find what you're looking for? We can plan a custom-made food experience or itinerary just for you.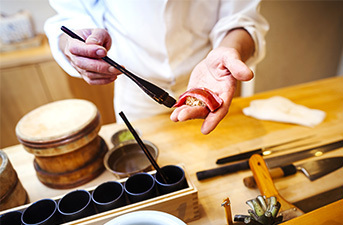 There are few words which inspire greater joy among steak lovers than Japanese wagyu, the varieties of beef raised and bred in Japan which are among the best in the world. The pricey and prestigious Kobe beef alone would be enough to put Japan on the map, but did you know there are dozens more regional varieties to discover? Take for example, the incredibly pricey Matsusaka beef, or Olive wagyu — the world's rarest beef.
Each has its own charms, but all share the fantastic pink marbled texture which Japanese wagyu beef is famous for. Our range of Japanese wagyu restaurants offer the chance to beat the language barrier and secure a reservation at some of the best beef restaurants in the country. Whether you want a nice, thick-cut steak, or a pot of traditional sukiyaki hotpot, you'll find the Japanese wagyu restaurant for you.
And you don't have to spend an arm and a leg to enjoy them. Wagyu beef comes in a variety of different grades to suit any budget. Among our range, there are some fantastically affordable wagyu restaurants in Japan too! So reserve your spot and prepare for some of the most mouthwatering meat of your life.