Tailor-Made Tours
Can't find what you're looking for? We can plan a custom-made food experience or itinerary just for you.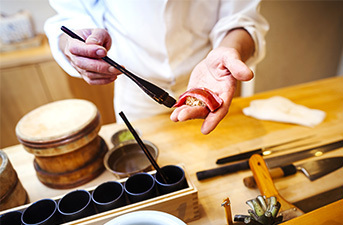 Alongside sushi and kaiseki, tempura is one of the pillars of traditional Japanese cuisine. The technique was brought over by Portuguese traders centuries ago, but now it's become a quintessentially Japanese dish, and far healthier than similar dishes in Europe.
You'll find it served in many places, from cheap chains to triple Michelin-starred restaurants in Ginza. With byFood's restaurant reservation service, you can book a spot at the perfect one for you with no hassle at all. Vegetarian and pescatarian diners should also have no problem finding a place to accommodate their needs among these tempura restaurants in Japan.
If you want to try the best of the best, consider splashing out on an omakase tempura feast to remember, where a highly-skilled chef will whip up deep-fried delicacies one after the other right in front of you. Although, you don't always have to pay a high premium for great tempura; many top restaurants offer great deals on tempura rice bowls and daytime dining. You're sure to find just the right place to fit your budget and satisfy your cravings for crispy, deep-fried treats.