Filters
Host Donations (high to low)
Newest First
Price (low to high)
Price (high to low)
Rating
Number of Reviews
Tailor-Made Tours
Can't find what you're looking for? We can plan a custom-made food experience or itinerary just for you.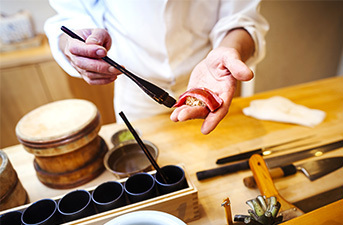 Enjoy The Best Vegetarian Cooking Classes in Kyoto
With its famous tofu and high-quality, locally-harvested, Kyoto is renowned for putting up amazing dishes that are visually beautiful and enhanced with natural flavors. Many signature dishes of Kyoto cuisine made from vegetables entirely, while other recipes can be easily adapted to become meat-free. Our vegetarian cooking classes in Kyoto can accommodate those who prefer not to eat meat, and it can be an awesome cultural experience, meeting locals and maybe trying something new. If you are someone who enjoys cooking meat-free meals or are looking for a different cultural experience, one of our vegetarian cooking classes in Kyoto could be a perfect activity for you! Or, if you just want to know more about vegetarian Japanese cooking, look no further!
As the birthplace of the Japanese Buddhist vegetarian cuisine (Shojin Ryori) and the Japanese tea ceremony, peaceful Kyoto is one of the best places to learn about plant-based cooking. A vegetarian cooking class in Kyoto makes for a great opportunity to learn new skills as you cook your vegetarian feast. Step away from the temples for a day and gain new cooking skills as a souvenir to take away from the cultural capital of Japan. Book one of our vegetarian cooking classes in Kyoto, and you might find yourself making delicious vegetarian sushi or a bento box filled with delicious veggie snacks!