Tailor-Made Tours
Can't find what you're looking for? We can plan a custom-made food experience or itinerary just for you.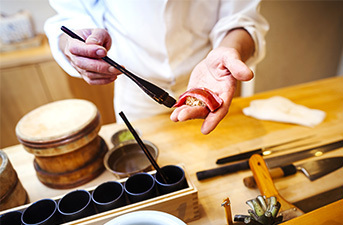 Frequently Asked Questions
How to reserve restaurants in Tokyo?
You can always reserve a seat at a restaurant in Tokyo by making a direct phone call to the restaurant itself. However, as not all staff speak English, this can often be very difficult due to the language barrier. In some cases, certain restaurants will allow reservations in English via their website. Although, when this is not the case, you can make a reservation via an online platform. There are many sites which are designed to help foreigners make restaurant reservations in Tokyo and greater Japan. ByFood is one such platform where you can go to book experiences and make reservations at restaurants in Japan. The platform allows you to filter restaurants in Japan by area, food, and other preferences, making it easy to choose a restaurant and make a reservation. All you have to do is select the restaurant in Tokyo where you'd like to place a reservation and add your reservation details. ByFood will make the reservation on your behalf and send you a confirmation email. In the event that the reservation fails, you will receive a failed reservation email.
Is a reservation required for restaurants in Tokyo?
This depends on the restaurant. Casual restaurants and chain restaurants in Tokyo generally do not require a reservation, however if you are in a big group, it can be a good idea to place a reservation ahead. Premium and high-end restaurants tend to require reservations, especially those which are popular and are all booked 2 or 3 months in advance. It is not possible to reserve at some casual restaurants like diners or some izakayas.
What is the average cost of a meal at restaurants in Tokyo?
A meal at a regular restaurant in Tokyo will generally cost somewhere between 1000 and 3000 yen for a meal, depending on the restaurant. If you're on a budget, keep in mind that options tend to be cheaper during lunchtime. Fine dining restaurants can start at around 4000 yen per person and even cost more than 20,000 per meal.
Best Restaurants in Tokyo
Tokyo is an absolute culinary wonderland, and is the proud city holding the most Michelin-starred restaurants in the world. Discover restaurants offering every cuisine of every caliber. Each district of Tokyo plays to its strengths when it comes to restaurants in Tokyo. From kawaii cat cafes in Harajuku to the glitzy upscale diners in Ginza, each Tokyo restaurant offers its own unique culinary adventure. Get lost somewhere down a yokocho alley in Shinjuku, or party it up at an izakaya in Shibuya. The range of restaurants in Tokyo is phenomenal, always offering high-quality delicious food, wherever you might find yourself seated. In this crazy city, you never really know what kind of specialty Tokyo restaurant you might stumble upon.
No matter what kind of dining experience in Tokyo you desire, traditional Japanese restaurants (some run by old couples for decades) coexist with futuristic ones (filled with robots or servers dressed as maids), offering a smorgasbord of foreign and local Japanese cuisine. Enjoy grilling your own top-grade wagyu beef, or watch the freshest sushi prepared in front of you by a chef dining at an omakase sushi restaurant in Tokyo. Maybe better still, slurp up hearty ramen noodles squashed in elbow-to-elbow with locals somewhere downtown, or at a family-run tempura restaurant in Tokyo with only 10 seats and an astonishing queue.
Not sure where to start? Experience the best of this culinary wonderland and reserve your seat in a Tokyo restaurant to guarantee yourself some of the best food in the city. Endlessly surprising and exciting, a Tokyo dining experience will satisfy every taste bud and accommodate any budget.