Tailor-Made Tours
Can't find what you're looking for? We can plan a custom-made food experience or itinerary just for you.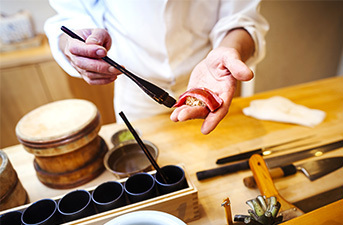 Frequently Asked Questions
How to reserve tempura restaurants in Tokyo?
Depending on the type of tempura restaurant, you can call the restaurant directly to book a table. However, some people find this challenging due to potential language barriers. Another option is to use a reservation service on the web. There are many sites that help users make reservations easily online. You can filter different restaurant or meal types, such as tempura, and different areas, such as specific districts in Tokyo. Simply select the tempura restaurant that tempts you most (pun intended) and enter your booking details into the restaurant page. ByFood will submit a reservation for you and send a confirmation to your email if the reservation is successful, or a notice of failure if it is not.
Is a reservation required for tempura restaurants in Tokyo?
Many tempura restaurants in Tokyo will not allow a reservation, such as the cafeteria-style or casual tempura chain restaurants. On the other hand, most high-end Tokyo tempura restaurants require a reservation as they are popular and are all booked up weeks or months in advance.
What is the average cost of a meal at tempura restaurants in Tokyo?
Cheap tempura restaurants usually cost under 1500 yen for a set meal. However, there are also expensive tempura restaurants which specialize in deep-fried dining, and can cost around 20,000 yen for a luxurious meal.
Tempura Restaurants in Tokyo
Tempura restaurants in Tokyo are known for mastering this art of deep frying, from upscale specialty tempura restaurants to chain store tendon "tempura bowl" shops. There is something so simple yet elegant about the traditional deep-fried dish of Japanese tempura. While this is a common cooking technique that is widely utilized by many countries across the globe, somehow Japanese cuisine handles it so delicately and perfectly. You can enjoy this comforting yet refined cuisine at one of the many tempura restaurants in Tokyo.
Tokyo is full of tempura restaurants for any budget or style. If you want to try a hidden tempura restaurant in Tokyo under the train tracks in Ueno, or a high-class dining experience in Roppongi, you can always find a tempura restaurant in Tokyo. Scattered throughout the different districts in Tokyo you can find local, family-run specialty tempura restaurants and casual shokudo cafeterias serving up temping tempura around the clock in this crazy modern city.
With different ingredients like vegetables for meats ready to be perfectly fried, tempura is a crowd pleaser for kids and adults alike. It can be a lifesaver and no-brainer when you are exploring Tokyo and are stumped on what to feed the family. Tempura is an essential and ever-tasty traditional Japanese food that you should definitely try on any trip to Tokyo.
Reserve ahead of time to join the salarymen at local tempura restaurants in Tokyo, or eat unbelievable tempura during a Tokyo dining experience. This could be at a specialty Michelin-starred restaurant in Tokyo, or just one of the many courses of a meal at a kaiseki restaurant in Tokyo.