Filters
Host Donations (high to low)
Newest First
Price (low to high)
Price (high to low)
Rating
Number of Reviews
Tailor-Made Tours
Can't find what you're looking for? We can plan a custom-made food experience or itinerary just for you.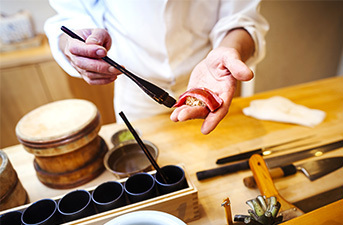 Choose From The Top Sushi Making Classes in Tokyo For All Levels
Sushi is one of the first dishes that come to mind when people imagine Japanese food. Sushi comes in so many forms, from nigiri sushi made with body-temperature vinegared rice and slices of raw fish, to decorative sushi rolls that reveal a gorgeous design when sliced. Although sushi can be made with just a few, simple ingredients, there is a perception that sushi is an upscale dish, which must be difficult to prepare. This is not the case at all! During these sushi making classes in Tokyo, you will learn how to put together sushi feasts of nigiri sushi, temaki sushi, inarizushi, and more. With the guidance of professional chefs or home cooking experts, you will learn how to make perfect sushi. There are cooking lessons for all levels, from beginners to experienced cooks. Browse sushi cooking classes in Tokyo and you will find that there is a wide variety of lessons, even vegan sushi making classes! So, hop on board and get rolling!