Filters
Host Donations (high to low)
Newest First
Price (low to high)
Price (high to low)
Rating
Number of Reviews
Tailor-Made Tours
Can't find what you're looking for? We can plan a custom-made food experience or itinerary just for you.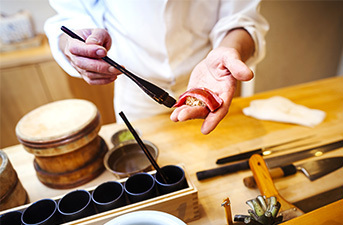 Enroll in Top Vegan Cooking Classes in Tokyo
Vegan food in Tokyo is certainly on the rise, but much of what's available comes from adaptations of Western food. Japanese food that doesn't use animal products can be truly delicious, and in fact there are many ingredients used in Japanese cooking which are completely plant-based. Umami flavors can be extracted from seaweed and mushrooms, and of course, tofu from soybeans makes up a huge part of the daily Japanese diet. You can learn all about vegan food alternatives by joining a vegan cooking class in Tokyo, where you can learn tips and tricks on vegan food in Japan as you cook your own! It's a great way to meet like-minded travelers while you learn new cooking skills.
So many dishes in Japan can be absolutely delicious when using only plant-based ingredients. You can use vegetables to make sushi in a vegan sushi cooking class, or cook a hearty bowl of vegan ramen during a vegan ramen making class. As well as a fun day out, making your very own vegan food during a vegan cooking class in Tokyo can be a real lifesaver, and satisfying too. Save the hassle and learn how to make some delicious vegan Japanese food for yourself on your next trip to Tokyo. Check out our range of vegan cooking classes in Tokyo and get cracking on your very own vegan feast!