Filters
Michelin
1 Michelin Star
2 Michelin Stars
3 Michelin Stars
Bib Gourmand
Michelin Green Star
Tailor-Made Tours
Can't find what you're looking for? We can plan a custom-made food experience or itinerary just for you.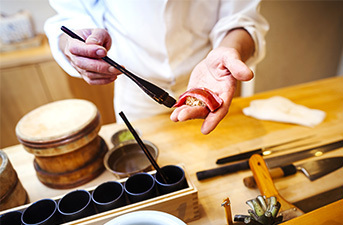 Frequently Asked Questions
How to reserve Michelin star restaurants in Tokyo?
A table at a Michelin-starred restaurant in Tokyo can usually be reserved by calling the Michelin-rated restaurant directly. However, depending on the restaurant, a language barrier may prevent a successful reservation, even at some of the more popular or well-known Michelin star restaurants in Tokyo. To avoid missing out on a Michelin-starred meal in Tokyo, an easy alternative is to use an online reservation platform. ByFood is among the website options which help foreigners to make reservations at restaurants, such as those with Michelin stars in Tokyo. Using the platform's filters, you can choose a Michelin-starred restaurant based on cuisine, location, budget and more. Simply choose your restaurant and add your details into the restaurant page, and then byFood will make a reservation on your behalf. If the reservation is successful, you will receive a confirmation email. If the reservation is not successful, you will instead receive a rejection email.
Is a reservation required for Michelin star restaurants in Tokyo?
Yes, generally a reservation is required for Michelin-starred restaurants in Tokyo. There are some cheaper Michelin-starred restaurants in Tokyo that are first come first serve, but generally Tokyo Michelin-starred restaurants are very popular and can often be completely booked months in advance. Reserve ahead of time so that you do not miss out on fine dining in Japan's capital, the city with the most Michelin stars in the world!
What are the best Michelin star restaurants in Tokyo?
The creative, Edo-style "Sushi Yoshitake" is one of the best Michelin-starred restaurants in Tokyo. It is the only sushi restaurant to be included in the 2020 Michelin Guide. However, honorable mentions go to the omakase course at "Sukiyabashi Jiro" in Ginza (which you may know from the documentary Jiro Dreams of Sushi) and "Sushi Saito," another household name that offers famously world-class sushi. Notoriously difficult to book and located in a hidden drinking alleyway of Iidabashi, "Kagurazaka Ishikawa" is one of the best Michelin-starred kaiseki restaurants in Tokyo. For the more adventurous, Usukifugu Yamadaya is a 3-star Michelin restaurant in Tokyo which specializes in fugu, or pufferfish!
How many Michelin star restaurants are in Tokyo?
As of 2020, Tokyo has a whopping 226 Michelin-starred restaurants to its name. It remains the city with the most Michelin-starred restaurants in the world. In addition, Tokyo has over 450 Bib Gourmand rated restaurants.
Why does Tokyo have so many Michelin stars?
Tokyo has so many Michelin-starred restaurants due to the high volume and quality of food served across the city as a whole. A culinary melting pot, Tokyo has one of the highest number of restaurants per capita (that means that there is 1 person per 101 restaurants in Tokyo!) so it is no surprise that many of them have been crowned as worthy of one or more Michelin stars. Restaurants in Tokyo use quality ingredients, unique flavors and cooking approaches, and overall offer wonderful dining experiences.
Michelin Star Restaurants in Tokyo
Foodies from all over the world flock to Tokyo to try some of the best food in Japan at its amazing multitude of Michelin-starred restaurants. With more than 200 Michelin-starred restaurants throughout the city, Tokyo has the world's most Michelin stars to its name. You can discover gourmet Japanese food of all calibers. Sitting amongst Michelin-starred kaiseki restaurants boasting glorious multi-course feasts, you can find there are also plenty of affordable options for Michelin star restaurants in Tokyo. For a delicious, high-quality meal starting around just 1500 yen, Tokyo has some of the most affordable Michelin-starred restaurants in the world. Boasting unique recipes of high-quality ramen and specialty set meals available, you should make the most of being able to eat Michelin-starred Japanese food without burning a hole in your pocket!
If you've ever wanted to dine at a Michelin star restaurant, a dining experience at a Tokyo Michelin-starred restaurant is a must do for anyone who is visiting the futuristic metropolis and takes their food seriously. You can expect exquisite Japanese cuisine at Michelin-starred sushi restaurants in Tokyo, like at the famous Sushi Saito. Michelin-starred dining experiences in Tokyo are certainly diverse, ranging from restaurants found in towering skyscrapers to tiny restaurants, seating just a few people, tucked away in the city's backstreet neighborhoods. Enjoy a high-quality dining experience with exquisite sake to match!
Deciding where to eat in Tokyo can be tough, let alone with Michelin restaurants in the mix. Over 10 Michelin-starred restaurants in Tokyo have been awarded 3 stars for their fine food and authentic experiences. If you want to try some high quality Japanese food with a wonderful experience, making a reservation at a Michelin-rated restaurant in Tokyo is something you should seriously consider. These highly-celebrated restaurants in Tokyo are popular, particularly the ones which are relatively cheap for an amazing meal, so don't miss the opportunity!