Filters
Host Donations (high to low)
Newest First
Price (low to high)
Price (high to low)
Rating
Number of Reviews
Handmade Soba Noodles Cooking Class
These healthy buckwheat noodles are as fun to make as they are to slurp! During this soba making class with a warm and friendly host, you'll mix, roll, cut, and prepare the soba from scratch, starting from buckwheat flour.
(3)
Handmade Buckwheat Soba Noodle & Kakiage Tempura Class
Traditional Japanese food-making class with an expert chef. Learn soba techniques. Use classical tools and cook. Cut buckwheat noodles and vegetable tempura to make a delicious soup. Prepare your own tasty fried topping in an Asakusa classroom.
Tailor-Made Tours
Can't find what you're looking for? We can plan a custom-made food experience or itinerary just for you.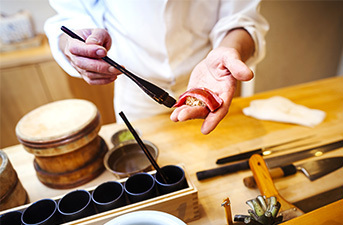 Soba Making Classes in Tokyo
Typically eaten either hot with a broth or cool with a dipping sauce (known as 'mentsuyu'), soba noodles are undoubtedly a staple dish in Japan. Notoriously healthy, soba noodles are made from buckwheat flour, and are served everywhere from local fast food diners to specialty noodle restaurants. Like ramen and udon, the best type of soba are the noodles which are freshly handmade! Ever wondered how to make them? If you are visiting Tokyo, you can learn this traditional skill by joining a hands-on soba making class in Tokyo. Discover the essential ingredients and regional varieties as you master a new noodle-y skill! From preparing the fragrant dough to kneading and cutting it with precision, learn the traditional techniques of how to make soba buckwheat noodles for yourself during a soba making class in Tokyo. The best part, of course, is eating your delicious handmade soba noodles at the end of a Tokyo soba making class! That's as fresh as noodles possibly get.