Filters
Host Donations (high to low)
Newest First
Price (low to high)
Price (high to low)
Rating
Number of Reviews
Tailor-Made Tours
Can't find what you're looking for? We can plan a custom-made food experience or itinerary just for you.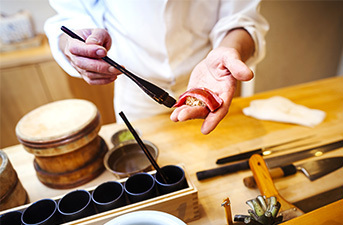 Top Hands-on Cooking Classes in Tokyo
Of course, you could never get bored in Tokyo as there are so many gardens, themed restaurants, and shrines to be explored. However perhaps if you need a rest day from gallery-hopping or wading through the temple crowds, a cooking class in Tokyo can be a fun and hands-on activity to really round out your trip that's different from the rest. With classes held in cooking studios and cozy home apartments, you can add a different cultural experience to your trip to Japan by joining one of our exciting Tokyo cooking classes.
Whether it be sushi making, creating wagashi sweets, or making an izakaya-style feast, there are all avenues of cooking classes in Tokyo for groups, small groups, and even solo travelers! We can also accommodate any dietary restrictions you might have. If you're plant based in Japan, why not join our vegan cooking classes? Or if you abide by Muslim or Jewish diets, we also have halal cooking classes and kosher cooking classes. Meanwhile, for those who are gluten intolerant or have a gluten allergy, there are also gluten-free cooking classes to join! Traveling as a family? There are plenty of family-friendly lessons, like creating your own "kyaraben" character bento. Or, classes like a takoyaki party or hotpot cooking class make a great activity for groups! Check out our Tokyo cooking classes to find the perfect cooking experience for you, from sushi to donburi bowls to ramen.