Filters
Host Donations (high to low)
Newest First
Price (low to high)
Price (high to low)
Rating
Number of Reviews
Tailor-Made Tours
Can't find what you're looking for? We can plan a custom-made food experience or itinerary just for you.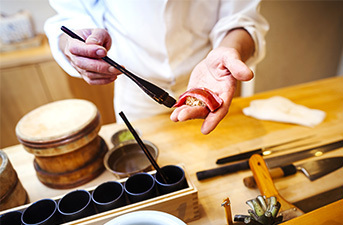 Book Hands-on Ramen Cooking Classes in Tokyo
Brew up some of the most delicious and complex ramen broths and even make handmade ramen noodles from scratch during these ramen cooking classes in Tokyo. Learning from pro chefs, cooking instructors, and experienced home cooks alike, you'll experience ramen cooking classes in real professional kitchens, cooking studios, or home kitchens. Find out how to make your favorite varieties of ramen, like shoyu ramen (soy sauce ramen), shio ramen (salt ramen), tonkotsu ramen (pork ramen), and miso ramen. Or, discover delicious regional styles of ramen. ByFood even offers vegan ramen cooking classes for those who prefer a plant-based meal. After you leave these ramen cooking classes in Tokyo, you'll return home with a ramen recipe in hand, equipped with the skills and knowledge to make your own ramen at home.